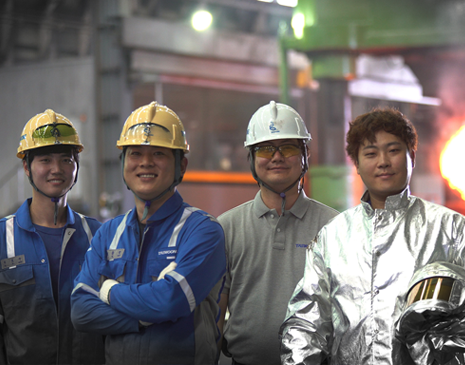 One of the leading global comprehensive steel manufacturers in Korea.
Along with forging, we consider steelmaking as the new growth engine and introduced an integrated production system in every step, from raw material production to forging to processing.

TTAEWOONG is equipped with the capability to produce 700,000 tons of steelmaking and 350,000 tons of forged product per year.
Our Steelmaking Business Unit installed an eco-friendly 120-ton electric arc furnace, a refinery furnace, vacuum decarburization/degassing facilities, and atmosphere/vacuum ingot casting facilities. In particular, TAEWOONG became the first to produce the world's biggest Ø1000 round blooms from our state-of-the-art C.C R/Bloom production line.

Forging Business Unit was awarded two kinds of "World Best Product" from Korean government by virtue of the world's best equipment, 150,000 ton press & ¢9,500 ring rolling machine, and accumulated know-how & experience.
As a global leading company for new renewable energy, TAEWOONG occupies 30% of key components for global Wind Power Generator.